SEO Copyrighting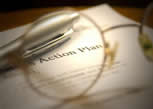 What will your Website say?
Content development is crucial to SEO. SEO Web Site Guy was a High School English Teacher for 3 years. He holds a Masters degree in Education. Search Engines are looking for well-written web sites.
What is well written?
Spelling, Punctuation, Grammar, etc.
Layout - the appropriate use of text headings indicates that the copy (writing) of your web site is well-organized.
Writing for web – not all of the same style rules apply on the web. Citations, for example, are handled differently.
Outbound links – citing "peer-reviewed", research-based, or respected sources is an aspect of SEO that is often neglected. This is something that a web-master or marketing consultant with a graduate degree should usually be able to do.
Readability - targeted reading level is often overlooked by SEO copywriters. Their writing goes "over the heads" of their target market. There are automated tools that evaluate the readability of a web site. Newspapers usually try to write at a 8th grade reading level. The average reading level for adults in the US is 8th -9th grade, as cited in this article:
"Adult Literacy in America (NALS)" National Center for Education Statistics, U.S. Dept of Education, Office of Educational Research and Improvement (NCES 1993-275), April 2002.
Web site readers average a 8th grade reading level. SEO Web Site Guy has taught 6th grade – 12th grade students. He has a grasp of what they can and can not read. You will notice that this web site has short sentences. Will this drive higher readers away?
"…improvements for lower-literacy users did not come at the expense of higher-literacy users…it doubles a website's ability to meet its goals."
-http://www.useit.com/alertbox/20050314.html
Readability is a key aspect of a websites overall usability. According to more in-depth studies by the same author, Jakob Nielsen,
"…current usability ROI is so stupendously big (spend 10% to gain 83%)…"
-http://www.useit.com/alertbox/roi.html
"66 case studies of design improvements in redesigning websites: the measured improvements in key performance indicators (KPI metrics) ranged from 0% to 6,567%. (Yes, a few sites didn't get better; one site got more than 65 times better.)"
-http://www.nngroup.com/reports/roi/
Writing for the Web
SEO Web Site Guy knows how to write for the web, and for lower readers. SEO Web Site Guy has years of experience in:
Web Programming/Design – 5 years
High School English – 3 years
Special Ed – 4 years
Tech Training – 2 years
Accessibility
Web site accessibility to people with disabilities (visual impairments, learning disabilities) has become very important in SEO.
"Training adults on website and software use gave me a sense of what to expect of the average web site user."
- SEO Web Site Guy
---